Spice up your evenings with 3 cocktail spirit recipes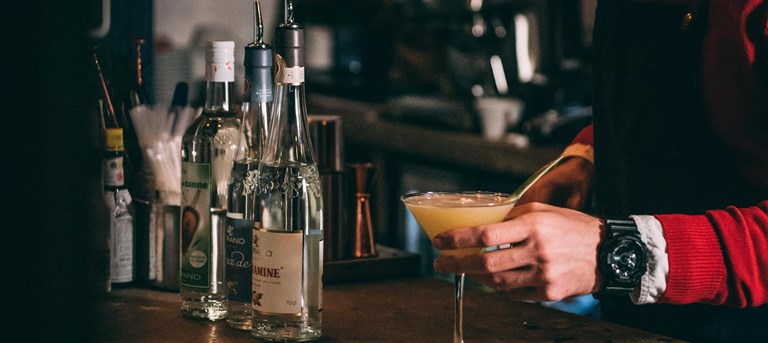 Cocktail hour has become an important weekly ritual for many people during this very different summer. Goodbye festivals, tropical holidays, crowded parties and hello working remotely, Netflix and the quest for the perfect cocktail to make at home. So to help, we've created the perfect cocktail solution for you with our different cocktail spirit recipes!
Morand offers a long list of spirits you can use to make delicious cocktails. We've put together some of our favourite recipes for you to make them yourself at home. Trust us, you won't be missing the bars!
Early evening
Just because you haven't had your dinner yet, it doesn't mean you're stuck with a casual beer. Not when there are so many spirits and tasty cocktail options available to you that both have a low alcohol content and are refreshing. Try a fruity liqueur and create a Williamine Tropicale.
Williamine Tropicale
Fill a shaker with ice cubes, add 3 cl of Morand pear syrup, 2 cl of Morand Williamine Eau-de-Vie, 5 cl of pineapple juice, the juice of half of a lime, and 1 cl of Morand sugar syrup. Shake and serve in a Martini glass.
Aperitif
This before-dinner drink readies your stomach for food and your palate for the delicious flavours it is about to enjoy. For a wonderful start to any evening, try the most iconic Cuban drink with a tasty twist: the Williamine Mojito. Sweet and crisp with a fresh minty flavour. Simple, delicious, and very easy to mix, it's hard to resist.
Williamine Mojito
Add 4 quarters of a lime to a mojito glass, 1 slug of Morand sugar syrup, and 4 cl of Morand Williamine. Mash some mint leaves and mix with crushed ice. Fill ¾ of the glass with the mixture. Top up with Ginger Ale and crushed ice.
After dinner
As the weather turns cooler, it's time to try mixing cognac into your cocktail repertoire! While you may have saved a bottle of cognac for an evening sipper, it is also a fantastic ingredient for cocktails. Sidecar is our favourite cognac cocktail!
Sidecar
Combine 6 cl of Morand orange cognac, 3 cl Morand Triple Sec and 1 cl Morand lemon syrup in a cocktail mixer. Add ice and shake; strain into a chilled Martini glass with or without a sugared rim.
We have a wide range of delicious spirits in our online shop, including refreshing fruity liqueurs and plant liqueurs, all perfect for delicious summery cocktails!