How to use syrups: Tricks and secrets to power up your game in the kitchen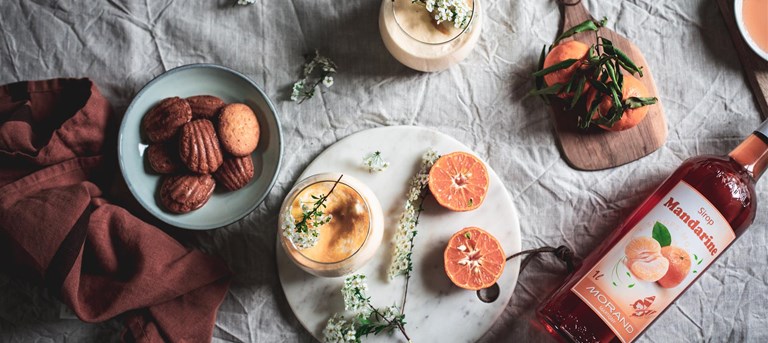 Whether they're used to flavour or sweeten drinks or for something more creative, syrups will power up your game, adding delicious flavours to everything you drink, cook, bake, or shake. And now we've made it even easier with some easy ideas and recipes to use syrups. Ready to get inspired?
Baking
We've all had cakes come out dry and flat, but have you ever considered using a simple syrup to give your cakes that extra boost? This quick fix is one of baking's best-kept secrets, and it's a really handy trick to have up your sleeve when things go wrong in the oven. Syrups are great all-purpose glazes for cakes and fruitcakes, adding moisture and that extra bit of sweetness.
How to do it
Poke a few small holes in the top of the cake with a toothpick. Lightly drizzle the simple syrup over the top of the cake and, if it does not sink into the cake completely, smooth it out with a spoon. Let it sit for a few hours to make sure the syrup has spread  into your cake successfully. Choose between fruity syrups or creams, of which chocolate and noisette are among the most popular, to bring out the flavours in your baking.
Coffees
You don't need many ingredients to turn a regular coffee into a drink that rivals Starbucks! Coffee, fresh milk and your favourite syrup are all you need to make your drink of choice in your very own home.
How to make a vanilla latte
To make a vanilla latte, you'll need 1/2 a cup of coffee, 1/2 a cup of milk, 1 tablespoon of vanilla syrup, and sugar. Brew coffee and stir in 1 tbsp vanilla syrup. Froth the milk, or heat the milk until it is steaming, and whisk until frothy using a small whisk or fork. Slowly add frothed milk to your coffee. Sweeten to taste.
Pancakes and waffles
Syrups are a must-have for pancake and waffle breakfasts, because few things are sadder than eating plain pancakes and waffles! Whether you're tired of maple syrup, you just don't like it, or are simply feeling experimental, you'll definitely find syrups are your best ally! Our top 5 picks for pancakes and waffles are chocolate, noisette, amaretto, blueberry and strawberry!
Flavoured Water
Syrups are perfect to add flavour to a drink, while keeping the calorie content low and your drink healthy. Just add one or two spoons of a fruity syrup to your glass of water to transform it into a delicious, healthy alternative!
We have a wide range of delicious syrups in our online shop, which all make the perfect addition to delicious drinks and recipes!  Have a go and experiment with new ways to use syrups.