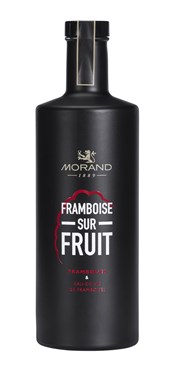 The Valais and the Rhone Valley, rich in material extracted from the mountains by ice and water, are a fabulous terroir for the emblematic fruits of our house. This led us to launch Williamine® SUR FRUIT in 2020, then in 2021 Abricot SUR FRUIT; the best of fruit in your glass.
After the success of these two products, we are proud to announce the arrival of a 3rd reference in this range.
The Framboise SUR FRUIT combines Valaisan fruit and brandy. The raspberry brings substance and sweetness; the brandy, the intensity of flavors; their meeting: all that the orchard offers of best.
Tasty and fruity, the Framboise SUR FRUIT is the gourmet gollet to conclude a meal or accompany a coffee. It is also an excellent base for a Spritz, with the addition of a sparkling wine!

The Framboise SUR FRUIT (21.5 % vol.) is available from today in 70 cl format.
Framboise Spritz
INGREDIENTS
A wine glass filled with ice cubes
4 cl liqueur Framboise SUR FRUIT
8 cl sparkling wine
Sparkling Water
PREPARATION
1. prepare the recipe directly in the glass
2. fill the glass with ice cubes
3. add 4 cl liqueur Framboise SUR FRUIT
4. fill up with 8 cl of sparkling wine
5. 1 dash of sparkling water